2009/13/3 : Buick Riviera 2007 concept
The Buick Riviera concept was unveiled at the 2007 Shanghai Motor Show. The gullwing Buick Riviera concept coupe was developed with global design input by the Pan Asia Technical Automotive Center (PATAC) in China, a design and engineering joint venture between General Motors and Shanghai Automotive Industry Corporation (SAIC). The Riviera concept was engineered to accommodate a new hybrid system that will go into production at Shanghai GM. Read more... (diseno-art.com)
2009/10/3 : Long Time No Talk..
Hello Everyone, i know its been a long long long time.. but i am alive and kicking. been super busy, with the wife and kids and started my own biz.. i have not had any time for the website.

In the new few week i will posting some new links of things i will be working online again.

chris barton
2005/29/11 : Buick and Martha Stewart Join Forces to Introduce 2006 Buick Lucerne
Business as usual doesn't cut it today in marketing's fiercely competitive arena. Campaigns that create an aura of unique excitement and intelligent suspense are required to garner interest and cut through the clutter. General Motors' Buick Division will do just that when the all new 2006 Lucerne becomes the featured product on the "The Apprentice: Martha Stewart" reality show.

First airing on NBC from 9:00 – 10:00 p.m. EST on November 30, two apprentice teams will design an in-dealership launch showroom display to entice and excite potential Buick Lucerne buyers. The influence of the winning team's creation, selected by Martha Stewart and Buick executives, will be experienced by prospective customers on December 13, when participating dealerships host a Lucerne V.I.P. Premiere Night. Viewers of the November 30 episode can RSVP for an invitation to a Lucerne V.I.P. Premiere Night party in their area via an online registration process and will be directed to Buick.com during the show.

In addition, elements of the Lucerne V.I.P. Premiere Night party will be teased on Martha Stewart's daytime show on December 1, 2005. Here, the party-planning diva will showcase her influence on the upcoming Lucerne VIP Premiere Parties, from flowers and napkins to punch and hors d' oeuvres, and will create a scene right out of the "Perfect Party Handbook"– a 20-page guide to entertaining brought to you by Buick and Martha Stewart Living.

"Buick's partnership with Martha Stewart to introduce the luxurious Lucerne reaches those consumers interested in upscale brands who might otherwise be unaware of the Lucerne 's potential," said Margaret Brooks, Buick marketing director. "By joining these two powerful brands it gives us a new opportunity to reach this ever-changing customer whose interests and tastes are as diverse as the people who view her programs."

About Lucerne

Built "Beyond Precision," the Lucerne is Buick's third new vehicle in just over a year, following the LaCrosse midsize sedan and Terraza crossover sport-van.

Lucerne offers an array of options, including a V-8 or V-6 power, three trim levels – the well-equipped CX, elegantly appointed CXL or the luxurious, performance-oriented CXS model. Standard on every Lucerne are OnStar, Quiet Tuning – Buick's exclusive process to eliminate unwanted cabin noise – and a four-year/50,000 mile warranty. The sedan has a base manufacturer's suggest retail price (MSRPs) ranging from $26,990 to$35,990.

Lucerne is engineered to meet a wide variety of customer preferences and compete across a wide range of domestic and import entries in the premium midsize and luxury segments.

www.gm.com
Read more general news...
Read Other Automotive News here...
Buick of the Month
GM Streaming Video
Random Picture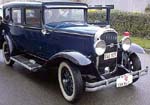 1931 Sedan
Sponsors Links

Please Support us
Send a Buck!